Day Tour to Saint Martin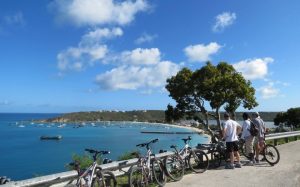 Holidays on the island of Anguilla are a pleasant bliss of luxurious beaches and relaxation in the chic apartments of local hotels. However, if you want unrestrained fun of nightlife, excellent duty-free shopping in boutiques of world brands, explosive excitement of playing at the casino or real masterpieces of French cuisine, then your trip to the famous "two-faced" island – Saint-Martin is at your service!
First you have an interesting choice: enjoy a pleasant sea voyage or air travel with a unique opportunity to experience an unforgettable air attraction: landing at Princess Juliana Airport over the famous Maho Beach. The program of your stay on the "island of eternal holiday" completely depends on your preferences: on Saint-Martin there is entertainment for every taste! For example, you can rent the legendary Harley Davidson and go around the island with a breeze or visit a stunning butterfly farm, soar into the sky above the lagoon on the futuristic X-Jet Pack or have fun in the famous Waikiki on Orient Bay Beach. An awesome party in a stylish Sky Beach Bar with a real rooftop beach or in a star club – Le Shore Club!
St. Barth Day Tour
You need to sail to the magnificent Saint-Barthélemy on a snow-white yacht – this way you can feel all the charm of the "paradise of millionaires" and automatically replenish their list … at least for the duration of the trip. In addition, the best way to enjoy the "starry" social life of the island is to plunge into it, going down the ladder of a luxury yacht. These emotions are no doubt worth it!
In the afternoon, you should make a trip around the island: look at the chic villas of Western and Russian stars in La Gouverner Bay and dine at the cult institution Le Select, about which Jimmy Baffet wrote the world famous song "Hamburger in Paradise".
When a fiery Caribbean sunset flares up in the sky, it's time to change into a luxurious evening outfit and arrange a romantic dinner in one of three dozen gourmet restaurants. For example, in Bonito with a rare Caribbean Latin American menu and stunning panoramic views of La Gouverner Bay or in Isolo with masterpieces of Italian cuisine. You will definitely want to continue this fabulous evening! Take a peek at Le Yacht Club, the fashionable nightlife queen of Saint Barth, Carol Husson. You will find an incendiary disco in the company of actors and models!
Island Sightseeing Tours
Anguilla's real charm is hidden in a beautiful mosaic from the details of its history and culture, impressions of stunning nature and communication with the hospitable inhabitants of the island. Of course, you can try to assemble it yourself, but then you risk missing the brightest fragments! One of the island's most popular tourist attractions is themed guided tours that cover everything from watching spawning turtles at Maundays Bay to visiting the old Wallblake House plantation to diving into a kaleidoscope of Sandy Ground nightlife. Each tour is individual and not like the other – on the island they prefer a personal approach.
What else can you experience while relaxing on the island of Anguilla? At the old salt factory and pumping station in Sandy Ground, you can see how salt was mined and processed when its production was the island's main source of income; touch the ancient history – petroglyphs in the caves of Big Spring Nationsl Park and Fountain Cavern National Park; and finally, feel the excitement of the magnificent sunset and stunning panorama, climbing to the highest point of Anguilla – Crocus Hill!
Day cruise around the island
A voyage around the island is the best way to see and feel the beauty of Anguilla. Dazzling beaches with snow-white and fine sand like sand, secret bays, great places for snorkeling and diving – the hospitable island is ready to share with you all its treasures and give you a lot of vivid impressions from a vacation in the Caribbean. What do you prefer: the adrenaline of a speedboat or the leisurely bliss of sailing?
Imagine a gorgeous sunny day. A gentle sea breeze iterates over your hair, and the secrets of a tropical island are revealed before your eyes. A deserted snow-white beach with azure waves gives way to steep cliffs with emerald depths, a bay with colorful fishing boats gives way to an untouched corner of nature with funny pelicans, and luxury villas on the coast give way to a small coastal village.
You can get into a number of unique and beautiful places of Anguilla only from the sea, for example, in the beautiful Little Bay. During the day cruise, you can also visit the outer reef islands. For example, Dog Island with dizzying drift diving, amazing Scilly Cay and Prickly Pear Cay with one of the best local beaches!
Sailing
Around Anguilla there are several interesting reef islands. Each of them has its own charm and deserves a separate pleasant sailing trip!