Antigua and Barbuda is an independent state, which includes the islands of the same name and several more small ones. It is a member of the Commonwealth of Nations and is located between the Caribbean Sea and the Atlantic Ocean. The country is famous for resorts, rainforests, as well as beaches with coral reefs. The main attraction of the state is the English harbor with a marina and the famous Nelson shipyard. The St. John's National Museum features a collection of exhibits dedicated to the history and culture of Native American tribes and the colonial period.
Tours to the exotic Caribbean islands of Antigua and Barbuda are a pleasure for understanding and wealthy tourists. The magnificent nature, blissful seclusion and a comfortable climate throughout the year – these are the main features of the direction. There are no noisy tourist crowds, hotels – completely upscale "fives" or no less wonderful "fours" that did not reach the coveted star just because of annoying natural misunderstandings – the beach, for example, is not so wide or the room area is a couple of meters smaller . In fairness, we note that the hotel fund as a whole is slightly old, but the paradise nature seems to compensate for any minor flaws. In addition to Antigua and Barbuda, the exceptionally diverse nature on land and under water is a true paradise for enthusiastic naturalists and a center of attraction for divers from all over the world. Continue reading →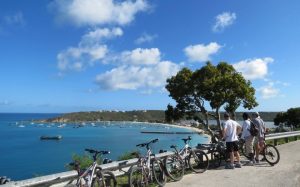 Holidays on the island of Anguilla are a pleasant bliss of luxurious beaches and relaxation in the chic apartments of local hotels. However, if you want unrestrained fun of nightlife, excellent duty-free shopping in boutiques of world brands, explosive excitement of playing at the casino or real masterpieces of French cuisine, then your trip to the famous "two-faced" island – Saint-Martin is at your service!
First you have an interesting choice: enjoy a pleasant sea voyage or air travel with a unique opportunity to experience an unforgettable air attraction: landing at Princess Juliana Airport over the famous Maho Beach. The program of your stay on the "island of eternal holiday" completely depends on your preferences: on Saint-Martin there is entertainment for every taste! For example, you can rent the legendary Harley Davidson and go around the island with a breeze or visit a stunning butterfly farm, soar into the sky above the lagoon on the futuristic X-Jet Pack or have fun in the famous Waikiki on Orient Bay Beach. An awesome party in a stylish Sky Beach Bar with a real rooftop beach or in a star club – Le Shore Club! Continue reading →
These sixty amazing islets are located between the Atlantic and the Caribbean. Very close to the United States, but away from crowds – this is what makes the British Virgin Islands an ideal place for relaxation and solitude, turning them into a paradise for lovers of water sports and for those who just want to hide from the world for a while on an inviting deserted beach.
The British Virgin Islands (BVI) offer their guests a wide choice for vacationing: from luxury resorts and private islands to villas and "BVI Pearls" – a number of unique small cozy places. Such a variety of options can cater to the tastes and requirements of any of your customers.
Both you and your customers expect a calm and safe vacation, a warm welcome from BVI residents, stunning views of wide bays, clear turquoise waters, the natural beauty of mountains, botanical gardens and fifteen National Parks, as well as world-famous attractions such as the unique granite rocky structure of Baths ("Baths") on the island of Virgin Gorda. Continue reading →
Pointe a Pitre is the capital of Guadeloupe. The airport is large and modern, however, there is nowhere to drink a cup of cafe. The weather is beautiful, with the first breath of air incredible humidity is felt, cigarettes bought in Moscow are not pleasant to smoke, they do not stretch. And by the way, they don't smoke at the airport, they don't smoke in taxis, and they don't smoke in restaurants, but we smoke and we have to remember how the English or French will be the ashtray and if you ask, they will bring it. The roads on the whole island are beautiful, not a single hole, clear markings, it is a pleasure to ride. All drivers are very polite, but accustomed to the Moscow movement, it is difficult to restrain emotions when one crawls at a speed of 40 kilometers per hour, his tail is three kilometers behind him and no one is ahead of anyone. There are practically no police officers, but they were seen a couple of times when they helped Continue reading →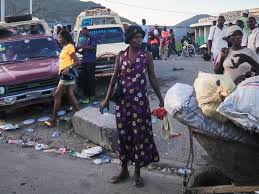 To many people, Haiti appears as a scattered set of frightening stereotypes that can hardly be integrated into one whole: zombies, voodoo, taunton-makuti, Papa Doc and his son Baby Doc, poverty, civil war, permanent cyclones – and again zombies. All these terrible words have done their job – so far, Haiti remains one of the least visited countries in the world, although the climate favors tourism. Of course, not least this happens simply because all these stereotypes are not idle tales. In general, to love Haiti, you need to be born there. Or, at worst, overcoming fears, just to be there.
Four hours before departure, I sat down to watch George Romero's old Zombie movie. I wanted to refresh my knowledge about the living dead. About their appearance, habits, habits and habits – about everything that can come in handy on a trip. On the screen, the zombies looked very scary. They tore people like candy wrappers. Continue reading →